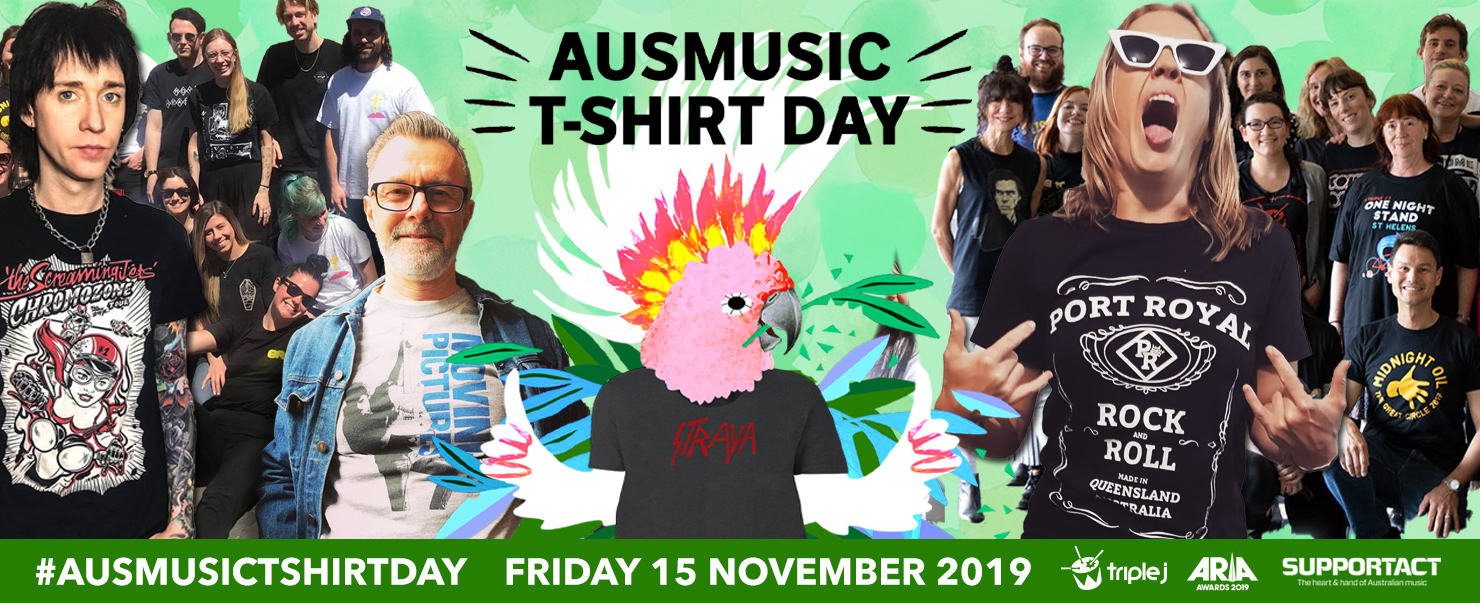 The 2019 Ausmusic T-Shirt Day campaign has concluded and we will be back for the 2020 campaign in October.
Do you love Australian music? And do you care about the people who create it? Then be a part of #AusmusicTShirtDay!
Ausmusic T-Shirt Day is a massive nation-wide celebration of Australian music that reminds us how lucky we are to have such a strong local music scene, with many highly talented and successful artists across all genres of music.
But many people are doing it tough. Please join Support Act to raise funds for artists, crew and music workers who are experiencing financial hardship due to ill health, injury or mental health issues.
You can do this by creating an individual or team page on this website, and inviting your networks to donate and wear their fave Ausmusic T-shirt to work, school or play on Friday 15 November.
Think Casual Friday with t-shirts, and photos posted to socials using the hashtags #ausmusictshirtday, @supportact, @triplej, @aria_official
Just click on the "Create A Team" button to create an individual or team page. You can easily search for, join or donate to your favourite team via the "Donate to a Friend" button.
Please contact us here if you have questions, or would like tips on how to get your workplace, school or social networks involved. And don't forget to check out our FAQ section.
Make sure to use your correct DOB when registering as fundraisers under the age of 16 need parental consent to activate their page.
What t-shirt will you wear - an old fave or something new? 
What t-shirt best represents you and the music that you listen to? Is it the one from the first gig that you saw, or the one that best represents your musical taste now?
We have a number of great options if you need to get a new band tee.
You can visit the merch section of your favourite artist website and buy one of theirs online.
Or you can visit a Levi's® store or levis.com.au. They've partnered with Angus & Julia Stone, Ruel, Ocean Alley, Parkway Drive, Tkay Maidza & INXS to create 6 limited tees, where 100% of net proceeds are being donated to Support Act.
General Pants, in association with Bravado, are selling a limited range of exclusive t-shirts prints in store and online from 1 November from Midnight Oil, Silverchair, Baker Boy, Meg Mac, Vera Blue & Polish Club. 100% of the net proceeds from every t-shirt sale goes directly to Support Act.
Sound Merch are offering a 10% discount on all Aussie band tees from their store until 15 November. They will also donate $4 from each t-shirt sale to Support Act. Use the code AUS10 at the checkout for your discount.
Warner Music Australia will be donating $5 from every sale of participating Aussie band t-shirts purchased from the Warner Music Australia official store up till December 15th 2019.
24Hundred and Space Mirror are also donating a percentage of proceeds from t-shirt sales until 15 November.
Purchase an Australian Band Tee from BandTshirts between Nov 1-15 & Love Police ATM will donate 20% of all sales to Support Act. Use the code AUSMUSDAY19 at the checkout.
Young Henry's has collaborated with a few awesome Aussie bands and will be donating $5 from each t-shirt sold. 
Got a question? Check out our FAQs.
I am keen to participate. What is the difference between "Create an Individual Page" and a "Create a Team page"?
1. Everyone needs to create an individual page. This can be done in your own name, or the name your company, school, community or network group. Co-workers, colleagues, family and friends will all donate to this page. You will be able to track donations to your individual page on the Individual Tab on the Leaderboard. Once you have created an Individual page, you will have the choice to create a team (see next section), join a team (from a list of existing teams), or you can just start fundraising by sharing your page link link to social media and to your networks.
2. A team page is one that has team members (or sub teams) who are all raising funds under the same overall team name. To set this up, you first need to create an individual page (see above). Then click 'create a new team' under your photo and give it a team name, photo (team pic or logo) and an 'our story'. Having created the team page, you will be the Team Leader and will be able to edit the team page. Next, send the team page link to your networks who can click the 'join team' button and create their own Individual page which will be linked to your Team page. (Please note that funds raised on Individual pages will still show on the Individual Tab on the Leaderboard. Group totals are shown on the Team Tab).
3. Video: How to Create a Team. Video: How to Join a Team.
I just set up a page but it is not showing on the Leaderboard. What is the problem?
There are 2 reasons this might be happening. The first, is that you need to make a donation to your page for it to register on the leaderboard. The second, is that you need to remember there are 2 tabs on the leaderboard. If you have set up an Individual page you will show up on the Individual tab of the leaderboard, if you have created a Team page then you will need click on the Team tab.
How do I maximise support for my page?
Make sure you change the story on your page to make it personal; upload a pic; and change the fundraising target, if you are not comfortable with the default target.
Make sure you, and your team members, actively blog on your supporter page (pics, video and text) as this gives you a reason to share your page again.
Hot tip: Use individual emails when sharing your link and inviting support. One in four personal emails to family, friends, colleagues and co-workers result in a donation. They are more effective than those tempting group emails or generic FB posts.
When posting to social media, make sure to link to your own page as well (and hence your donation button) as well as #ausmusictshirtday, @supportact, @triplej, @aria_official
I am an Individual. How can I participate?
You can champion Ausmusic T-Shirt Day in your workplace or school and see if you can get your colleagues or school mates to participate.
You can set up an individual page and invite your networks to support you; or you can create a team page and invite everyone to wear their favourite t-shirt and see how much you can raise in your team's name. (See Create a Team button).
Or you can make a donation to the Support Act page (or any other page) and then post your band tee selfie to social media using the hashtags: #ausmusictshirtday, @supportact, @triplej, @aria_official
I am an artist. How can I participate?
A large part of the success of AMTD is due to our strong social media presence, and the endorsements that we receive from artists, industry leaders and media personalities.
If you fit into one of those categories, we would love you to provide a video endorsement or photo and quote that we can use for this year's campaign
Please contact us directly for further information about this.
Many artists also choose to donate a % of their t-shirt or other merch sales to Support Act during the campaign period. If you plan to do this, please contact us here.
If you are willing to be a media spokesperson, please let us know here.
I am a student. How can my school participate?
It's simple. Talk to your Principal or head teacher to make sure that you can schedule the day into the school calendar. 
If you can't hold your event on Friday 15 November, then find a date that works for your school. (Remember, we celebrate Ausmusic Month throughout November).
Find a teacher or class champion who will agree to coordinate planning for the day.
Once our website for this year goes live on Friday 1 October, register your team and create your page. 
Organise events and activities that you can implement on the day, that will raise funds to help us achieve our target.
Remember to encourage everyone to buy an Ausmusic T-Shirt if they don't already have one. You can do this via the links in the section about t-shirts.
How can my company participate?
It's simple. Talk to your CEO or HR team to make sure that they can schedule the day into the company calendar. (The sooner you can do this the better).
Find an internal champion who will agree to coordinate planning for the day.
Create an individual or team page as described above.
Start thinking of some other fun things you can do in the lead up to, and on the day, to really drive interest and participation. See examples below.
Ask your company to provide additional motivation by matching staff donations (can be to an agreed limit).
Why should your company participate?
Ausmusic T-Shirt Day is a great way to show support for Australian music - and the people who make it. 
Music provides the soundtrack to all our lives, whether you are a CEO or an intern.
AMTD is easy to do; and is a great way to create engagement with staff, raise funds for a worthy charity, and have some fun in the office.
For some, it reinforces an existing commitment to Australian music; for others, it just brings people together around a topic that is of endless interest. 
Remember: Every Band Tee Has A Story… Every Musician Has Their Story.
Do you have an example of what other companies have done?
Here's what a winning strategy could look like for your company(based on a real example)
Monday 4 November:
Internal Announcement and diary send
Send calendar invite to all employees to participate in your company photo on the day
Encourage staff to buy an Ausmusic T-Shirt to wear on the day if they don't already have one
Friday 8 November:
Create short content piece (video or ppt) of key influencers answering three questions: What Band tee are you wearing? What show you bought the shirt at (venue/year)? What that artist means to you.
Finalise schedule for the day. Have you considered music trivia games; a Who Am I guessing game; or even a performance schedule for the aspiring artists in your ranks?
Friday 15 November:  Ausmusic T-shirt Day
8am Instagram flood. Ask all employees to post their pics on socials (to get the day trending)
9am Post your short content piece on your company's socials pages
11.30am – gather together for screening of content piece / photo / games / prizes for best tees
3pm – Raffle announced for everyone who has worn a t-shirt, via email. (Company provides prize).
4pm – End of day social event (e.g. BBQ, drinks) with optional gold coin donation entry
4.30pm Announce company matching and grand total raised by your company
5pm – Celebrate your position on our leader board and see how much was raised!
I am looking for things to engage my co-workers on the day and to maximise the level of support we receive. Do you have any ideas?
We have developed a set of music trivia questions, a "Who Am I" guessing game and other music focused activities to engage friends and colleagues at morning tea, during lunch, or even over Friday night drinks. Email us once you have created your team page and we can send these to you.
I want to create a community fundraising event to raise funds to support the day. Can I do this?
I want to donate a % of my merch sales to Support Act as part of AMTD. Can I do this?
Support Act is a music industry charity helping artists, crew and music workers who are facing hardship due to illness, a mental health problem, injury or some other crisis that impacts on their ability to work in music. 
Our key programs are: Crisis Relief, Help a Mate, Funeral Support, Support Act Wellbeing Helpline.
We help music workers of all kinds and all genres: artists, songwriters, composers, musicians, roadies, techies, managers, staffers and others. 
We treat every request for help confidentially and make no judgment about people's circumstances.
For further information, visit our main website - www.supportact.org.au
I want to edit my team name, goal, story and/or add a blog or photo
To do this, you will need to find the confirmation email that we sent you when you set up your page. Scroll down to the button that says Edit My Page. This takes you to the page that allows you to change your team name, goal, page story etc. Click the black tab that says Page Options and this takes you to the page where you can upload photos and add a blog.
My page says I have to get parental consent, but I'm over 16. What do I do?
Email the helpful Everydayhero team at help@everydayhero.com.au or chat with them on your page during business hours. They will get your page activated and ready to go.